Rescue & Re Homing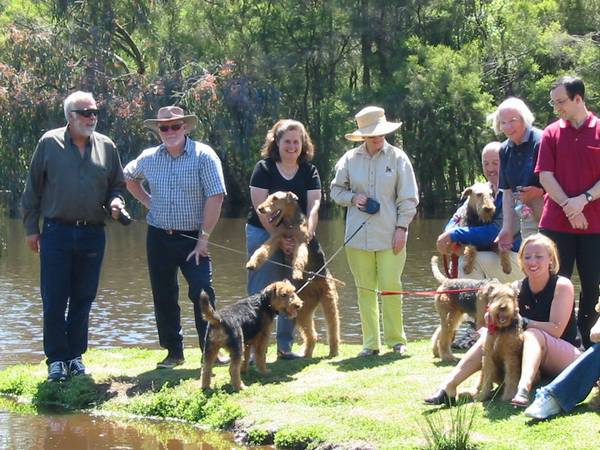 Breeders are the first stop to re-home their breeding.
The Airedale Terrier Club of Victoria Inc have an official policy regarding Rehoming Airedale Terriers.
Be aware, abandonment of Airedales is rare and as most owners usually have a rapport with their breeder, those who need relocation for whatever reason will (and should) usually contact the breeder. However, occasionally there is an Airedale Terrier who's owners have a tragedy or catastrophe in their life and can no longer care for their dog.
Please download the appropriate form below and contact our Rehome Co-Ordinator

airedaleterrierclub.vic+secretary@gmail.com
---
Press Release from Dogs Victoria.....
Adopt a purebred dog
Animal shelters and pounds aren't the only place to find a new family pet if you don't want a puppy or wish to adopt an unwanted dog.
Many breed clubs in Victoria manage their own rescue or rehoming service. If you have done your research and know which breed of dog will best suit your age and stage of life, but are not ready for a young puppy, make the breed club your first point of contact.
"Each club runs their service in a slightly different way," says DOGS Victoria President Peter Frost, "so the best way to start is to contact the club directly. Some clubs may have unwanted dogs in foster care, others keep an eye on the pounds and shelters for the breed and can point you in the right direction to adopt your perfect companion."
Not all second-hand dogs come with baggage, either.
"Some dogs available through referral from the breed club might be adult dogs a breeder kept to show that did not grow into their full potentialas a show specimen." Mr Frost explains, "breeders often place it with responsible families where they can live out their life as a beloved pet.
Of course, purebred rescues can be dumped or abandoned for the same reason as any other pound pup, usually behavioural issues. In most cases this is due to the dog not receiving an appropriate amount of training or exercise.
"Whether you plan to buy a puppy from a responsible breeder," says Mr Frost, "adopt through a breed club or adopt through a shelter, DOGS Victoria has the same message for you: Do your research. Selecting an appropriate breed of dog for your age and stage of life in the first place will greatly reduce the chances of it not fitting into your lifestyle in the future.
"And remember that a dog is for life. In some cases this can be up to 12 or 15 years, so you need to be committed to your new pet for its entire lifetime."
---