Groom, train, judge.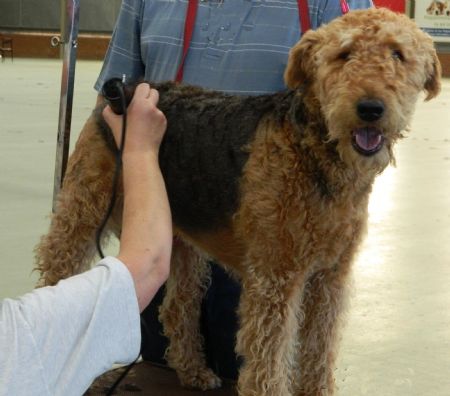 The first groomer and trainer of your Airedale is you!
Contact the breeder of your Airedale Terrier for assistance with grooming. Usually if you are grooming your pet Airedale you would clipper it. Grooming for Show however, is a much more involved task which involves hand stripping the coat as explained in the linked article. The main photo above shows an Airedale Terrier being clipped.
| | |
| --- | --- |
| An ungroomed Airedale Terrier | the same dog after grooming |
Some of the grooming tools you will need to groom your Airedale Terrier
---
Members who will professionally groom your Airedale Terrier
Sue Wilson
:
Sue is an experienced Airedale owner and grooms Airedales in the Balwyn area Saturday mornings. Contact by phone 0401 468 138 or email
Sue.W.1722@gmail.com
Maree Carroll carroll@viewton.com.au 0437120040 is member, breeder and exhibiter. Maree grooms in the Macedon Ranges area.
---
Airedale Terrier Club of Victoria
Member/Breeder Judges
Victorian Member (breeder) Judges. (Very short resumes may be submitted)
Di Barclay "YORKPARK" All terriers and specialist in Airedales, Welsh and Irish Terriers. Dianne is internationally experienced having judged in the USA, Russia, Poland and in 2014 will judge in Helsinki during World Show festivities and in the USA over the Montgomery week.

Keith Lovell"TJURINGA" Terriers judging licence for championship shows since 1973 and now judges over 100 breeds and has judged All Breeds Best in Show in USA and Europe. As well as judging Airedale Specialties at Great Western and Montgomery and several USA State breed clubs, Keith has judged for every Airedale Club in the Southern Hemisphere. Keith has judged many times in South and North America (including Hawaii), Norway, Finland, Denmark and Sweden (Where he judged the World Terrier Specialties for Australian Terriers, Kerry Blue and Bedlingtons) and Croatia, Hungary, Poland and Romania; as well as Japan, Philapinnes, Thailand, New Zealand and South Africa. In 2011 Keith judged Best in Show at Montgomery County Kennel Club; in 2012 among other judging judged the Terrier Group at Dracula Golden Trophy Show in Romania and in 2015 judged for The South of England Airedale Terrier Club. Keith is a specialist in Fox Terriers, Welsh Terriers and Irish Terriers as well as Airedales.......all breeds that he has bred, showed and made up Champions in.
Ann Sorraghan (All Terriers and specialist in Airedales, Welsh, Fox Terriers and Norfolks) Anne also judges Gundogs.
Ken Campbell
Jan Campbell All breed judge
Suzanne Tennant
Rebecca Preece Pickering (All breed judge)