Bush Day 2023 - Best Ever!!!
There were 56 cars down the driveway at Oldiron Park on Sunday. All had one or two Airedales in them and a few had three. Longtime Airedalers Di Easter and Chris Woodgate came from Canberra. Di's Airedales have won BIS at the Airedale Club and earlier the bitch challenge at Melbourne Royal in 1982! Chris was coming for a holiday weekend with her twelve and five yea old Airedales but the club is indebted to her for manning the barbarque on the day.
However, it was terrific to welcome the furthest travelled Airedaler John from Noosa with his lovely dog.
Not only did we all enjoy perfect weather. The Airedales took advantage of the mud hole which was even bigger, dirtier and wetter than ever. If your dog didn't quite match the cars interior, it was soon going to, when your dog hopped in! The fittest owners and Airedales even did the walk twice. Well done Winston! Club sales were manned by our President, Keith and Trish supplied the soup, while David and Club Secretary Cathy bought the sausages.

And everyone went home with the BEST ONE!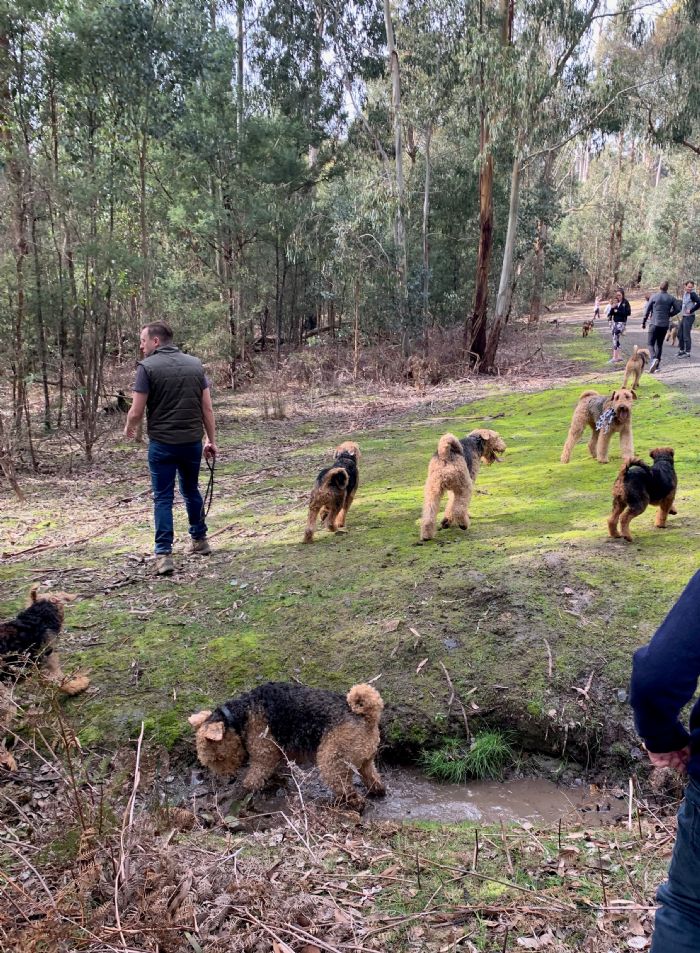 ---
About
The Airedale Terrier Club of Victoria Inc. was established in 1929 and is believed to be the second oldest pure breed dog club in Victoria. A Club Centenary celebration is planned for 2029. The Airedale Terrier Club is "Dedicated to the Welfare and Promotion of Airedale Terriers". The Airedale Terrier Club of Victoria is an affilliate of Dogs Victoria, the peak canine body in this state, and therefore The Australian National Kennel Council which is formally associated with International Kennel Administrations. The club and its members are bound by a code of ethics, incorporation law and by our club's constitution and by laws.
Each year the Airedale Terrier Club of Victoria will offer several Airedale Terrier experiences. These may include an annual dog show, grooming training, a memorabillia (Airedale specific) event in the Dog Museum, a Beach Picnic, A Bush Walk, a River Walk, Christmas Party with the Airedales and much more.
Persons who have an interest in The Airedale Terrier are welcome to join. Details and forms can be downloaded CLICK HERE. One of the many benefits of membership is our breed club magazine, The Airedaler, which is published four times a year.
Airedale Terriers are one of the healthiest of breeds. They are highly regarded as family friendly and while being a capable protector are known to be wonderful with children. Airedales do not shed like most breeds and their marvelous coat is about as anti allergenic as a dog coat can be. ATCV breeders on our register, breed from hip surveyed stock and in everyway are attemping to improve this wonderful quality breed.
Club Trivia.
Our largest ever Airedale Show was 1976 when Arthur Lodge of England was brought to Australia to judge 174 Airedales. This at the time was the world record number of Airedale Terriers at any one show.
---
Puppies Available / Litter Due CLICK HERE
2023 Membership Renewal CLICK HERE
2023 Breeder Directory Renewal CLICK HERE
ALL RENEWALS ARE DUE December 1st 2022
Membership Fees 2023
Single $25
Dual $30
Junior $1

The Club year runs from 1st. December to 30th November the following year.
New memberships paid after 30th September in any year shall be a financial member until 30th November in the following year.
Special Note! Interstate enthusiasts are also welcome to join the Airedale Terrier Club of Victoria.
---
Current Life Members of the Airedale Terrier Club of Victoria Inc.
Pauline Lewis (Moylarg Airedales)
Peter Hatton (Bushveldt Airedale Terriers)
Sue Henderson (Kingaire Airedale Terriers)
Keith & Trish Lovell (Tjuringa Airedale Terriers)
---

Click here to find us on Facebook
FACEBOOK SOCIAL PAGE https://www.facebook.com/groups/airedaleterriersofvictoria/
421873 Visitors